NEW Family Classic Competition
The Fairways to Heaven FAMILY CLASSIC is a new competition aimed at juniors and their family members.
This inaugural event is to be held at Aberdare Golf Club on Monday 2nd August 2004.
Entries are invited from Ladies, Gentlemen and Junior Golfers.
It is a paired Texas Scramble with teams to comprise of one Adult and One Junior (pair must be related with junior under 18 years old on 1st January 2004)
Entry fee is £35 per team of two, and includes a Sunday welcome reception, Monday tournament, lunch and prizes.
Contact Golf Development Wales or Aberdare Golf Club for details.
Closing date for entries is Monday 12th July 2004.
New Junior Leader Workshop
The New Junior Leadership Workshop is a 6 hour course aimed at volunteers wishing to introduce the basics of golf to young people in a fun and safe way. The course looks at all aspects of golf for young people including:
· motivation · communication · organisation
Candidates will also be provided with information regarding the introduction of basic golfing practices to children as well as:
· delivery strategies · safety · planning
New Workshops are available on the following dates:
South/Mid/West Wales
Sunday 11th July 2004

Llandrindod Wells Leisure Centre
10 – 4pm (Contact Hannah Fitzpatrick on 07968 453880)
North Wales
Sunday 27th June 2004

Colwyn Bay Leisure Centre
10-4pm Contact Louise Davis on 07968 453870
Cost £35.00 payable to the Golf Foundation
To reserve a place on a South/West/ Mid Wales course call Hannah Fitzpatrick Golf Development Officer on 07968 453880 or to reserve a place on a North Wales Course call Louise Davis Golf Development Officer on 07968 453870. In addition please complete the enclosed application form and return to the relevant officer ASAP.
FURTHER COURSES WILL BE HELD IN THE NEAR FUTURE, TO PUT YOUR NAME DOWN CALL THE ABOVE NUMBER.
Wee Wonders
CONGRATULATIONS DANIEL JEFFRIES
Following on from his success at the Welsh Final of the Wee Wonders competition in July, Daniel Jeffries from New Inn, Pontypool, and a member of Newport Golf club went on to also win the UK Grand Final at St. Andrews.
As a result of his victory in the 9-10 age group, Daniel has been selected for team GB & Ireland to play in the US KIDS GOLF World Championships in America in 2004.
Junior Golf Leader's Award
The Junior Golf Leader's Award is a basic leadership course that qualifies individuals to organise and supervise golf activity sessions for beginners.
The PGA are beginning to launch a new Coaching scheme and therefore the existing Junior Golf Leader's award is currently being revamped.
We will update you with the dates for the next set of Junior Golf Leader courses as soon as is possible.
Keep checking the website or call us on (01633) 423798.
You could also e-mail us on the addresses below:-
You may also be able to get a grant to fund your attendance.
Royal Approval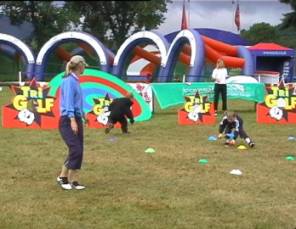 Once again, Golf Development Wales ran successful Tri-Golf sessions at the annual Royal Welsh Show in mid Wales.
Over 250,000 people attend the Show over four days and hundreds of children were given an opportunity to have a go at Tri-Golf.
They could also have a go at real golf thanks to the presence of the PGA Bryant Homes Roadshow (pictured in the background).
HRH Prince Edward visited the golf arena on the Wednesday of the show and was impressed at the efforts to get more children (especially girls) interested in the game.
We are hoping to secure the services of the PGA Bryant Homes Roadshow again next year – so if you know of any potentially suitable events then please let us know and we can discuss the possibility with the PGA team.
Wee-Wonders
Following on from last years successful events, Golf Development Wales has helped to arrange 8 qualifying events in Wales plus a Welsh Final at The Celtic Manor Resort.
The qualifiers from the Welsh Final will go on to the UK National Final in St Andrews in September.
The qualifying events were as follows:-
South Wales dates
Date Venue Start Time Main Contact
Tue 15th April 2003 Began Park 9.30am Philip Bowes
Wed 16th April 2003 Virginia Park 9.30am Andrew Eskins
Fri 25th April 2003 Summer Hill GC 1.00pm Sarah Powell
Wed 28th May 2003 Garnant Park 1.00pm Rowena Liles
North Wales dates
Date Venue Start Time Main Contact
Sat 3rd May 2003 Bryn Morfydd 10.00am Richard Hughes
Sat 24th May 2003 Penrhos tbc Louise Davis
Wed 28th May 2003 Treborth Driving Range 10.30am Richard Bradbury
Sat 7th June 2003 Clays 11.00am Louise Davis
The Welsh Final was at The Celtic Manor Resort on Saturday July 19th 2003.
Please contact us or visit the Wee Wonders website for any further details
www.wee-wonders.co.uk